Lesson 11 –
John 3:14-21 NRSV
14 And just as Moses lifted up the serpent in the wilderness, so must the Son of Man be lifted up, 15 that whoever believes in him may have eternal life. 16 "For God so loved the world that he gave his only Son, so that everyone who believes in him may not perish but may have eternal life.
17 "Indeed, God did not send the Son into the world to condemn the world, but in order that the world might be saved through him. 18 Those who believe in him are not condemned; but those who do not believe are condemned already, because they have not believed in the name of the only Son of God. 19 And this is the judgment, that the light has come into the world, and people loved darkness rather than light because their deeds were evil. 20 For all who do evil hate the light and do not come to the light, so that their deeds may not be exposed. 21 But those who do what is true come to the light, so that it may be clearly seen that their deeds have been done in God."
Background
This is one of the most famous Christian verses globally. You will find it on signs, tee-shirts, on plastic bags, even at wrestling matches! Earlier in the chapter, you will find a story about a Pharisee named Nicodemus who comes to Jesus at night for a philosophical question. Namely, "how can anyone be born again after having grown old?" The chapter in its entirety features stories, examples, and questions about being "born again" and eternal life. In your own devotional period, consider why this verse might be so popular as an evangelizing scripture. Why are people drawn to this verse?
Today's lesson will focus on the technique of sharing your faith respectfully.
Read the scripture out loud together. When did you first hear this verse?
What is happening during this passage?
The narrator recalls a moment in cultural history when Moses "lifted up the serpent in the wilderness." Jesus says that God loves the world so much that God gave an only son. The purpose of doing so was so that people would have eternal life. However, Jesus says, God did not send Jesus to condemn the world, but to save it. Those who did not believe were "already condemned." Jesus says that the light has come into the world and people loved "darkness rather than light" because their deeds were evil. Continuing with this metaphor, he says that "those who do what is true come to the light, so that it may be clearly seen that their deeds have been done in God."
Dark and light. Again?!
On January 6th, news organizations called the events the "Darkest day in American history," but as Pastor Simpson has reminded us elsewhere, it was indeed the "Whitest" day. As Black Christians, we are eternally haunted by the conflation of light and good versus dark and evil. It is present in every element of our social, political, and interpersonal world. Frequently we are reminded that Black people are despised. And even within the Black community, dark-skinned people are despised further.
When we read this text, we must remember and actively reject the colorist and racist standards that they depend upon. Instead, let us consider what might be Jesus' point. Remember, this all happens before electricity and the invention of light bulbs. Evil things do in fact happen at night without lights. Muggings, robberies, harassment, assault, and other violations are easier to carry out under the "cloak of darkness." That of course, does not mean that darkness is bad, but rather that people hide in the night to carry out evil itself. Night is not a bad thing; what we do at night to hide from accountability and consequences is.
How would people be condemned? What does that mean?
Watch every word that Jesus says. He says, "those who do not believe are condemned already." In other words, "if you did not have an encounter with the love of Christ, you may have been doomed already." It might not mean that people who do not believe in Jesus are doomed. It could mean "if you have not experienced the love of healing touch, compassion when you are being persecuted, joy in tough times, shelter among trusted chosen family," then you have already been in danger. Jesus' model for community is one that saves because he was insistent in taking care of those who were left out. Never did he expect a copay when he healed. He never expected anyone at the wedding to pay the tab for his miracle of wine.
After all, as Black people in this country, we have family members who practice all kinds of religions and traditions. This is a good and healthy thing. It is what keeps our people powerful. We are diverse in thought and experience.
What is Jesus' example here?
Jesus starts with love, not condemnation. He starts with life, not death. He starts with community, not individualism. Jesus insists on a world where we live well. He does not preach in this chapter, especially given the vulnerability that Nicodemus exhibits earlier, hell, fire, or brimstone. Often, Christians try to abuse people into believing. We tell them they will go to hell if they do not repent, or that God will be mad at them, or that they are unlovable. The most drastic example of this is Westboro Baptist Church, a group of people who go to harass people at their most vulnerable moments under the guise of "evangelism." This is not God's will. And it certainly was not Jesus' example. In fact, when people were coming together to stone someone, he put himself on the line and interrupted that violence himself.
What questions do you still have of this scripture? How will you commit to journeying with this text this week?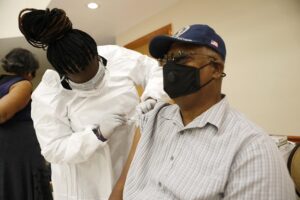 Connection to Today's World
Across the country, Black Churches are attempting to combat the existing health inequities of COVID -19 testing and vaccine distribution. We are fighting multiple issues, including vaccine supply, appointment frustration, mental health crisis exacerbated by the virus, limited time/transportation, and of course, misinformation. News reports are following an (incomplete) story that Black people are "less interested in the vaccine," and thus, Black communities are being left out and left behind. Our nation is already attempting to "get back to normal," which means that anyone who has not been vaccinated will encounter even more hurdles. It is the new frontier of inequality; we must actively resist the normalcy of leaving people behind.
But good news is here! According to Pastor Nicole Patrice Guns, nearly 15,000 people in her Virginia Community will be fully vaccinated by mid-April thanks to partnerships with Black churches. Here in New York, churches are teaming up to serve as vaccination sites. At this point, Concord has not elected to serve as a vaccine site. But we still want to support vaccine-access for everyone, members and not! If you would like to support a ministry of vaccine-access, please send us an email here. There are so many ways that we can be the good news. The Good News will bring itself. There is no need to proselytize as we do this work of access. No need to pressure people into coming to church. People will remember how they were treated and that will be enough of a testimony.
Journal: What makes you want to follow Christ?
Closing: Listen to "He's In the Room," Patrick Lundy.
Surely the presence of the Lord is in this Place.
Can you see the flow of glory, can you feel His warm embrace?
He's a got a blessing for me and miracle for you.
Without a doubt I know God Is the Room.
He's walking down the aisle; He's moving the pews.
He is lifting bowed down heads, taking the gloom.
He's in the room, I know that it's true.
I brought him with me, tell me did you bring Him with you.
He's in the room, He's in the room, He's in the room.
I brought Him with me, tell me did you bring him with you?
Prayer:
Dear God, We know you are in the room with us. You came in to bring life, not death. You came to save, not condemn. As your hands and feet on this Earth, it is up to us to reflect that very instinct. Help us to be kind when we share our faith with others.
Teach us to do what you did. To tell stories about our God, to envision a better world for us all, to take the risk of flipping the tables, to make sure the party never ends, to give love to those who need it most. If we live by your example, we will have done your will.
In Jesus' name we pray, Amen.
Works Cited
https://www.smithsonianmag.com/science-nature/psychologist-work-racial-identity-helped-overturn-school-segregation-180966934/
https://www.cnn.com/2010/US/05/13/doll.study/index.html