Isaiah 6:1-8 NRSV
1 In the year that King Uzziah died, I saw the Lord sitting on a throne, high and lofty; and the hem of his robe filled the temple. 2 Seraphs were in attendance above him; each had six wings: with two they covered their faces, and with two they covered their feet, and with two they flew. 3 And one called to another and said:
"Holy, holy, holy is the Lord of hosts;
the whole earth is full of his glory."
4 The pivots on the thresholds shook at the voices of those who called, and the house filled with smoke. 5 And I said: "Woe is me! I am lost, for I am a man of unclean lips, and I live among a people of unclean lips; yet my eyes have seen the King, the Lord of hosts!"
6 Then one of the seraphs flew to me, holding a live coal that had been taken from the altar with a pair of tongs. 7 The seraph touched my mouth with it and said: "Now that this has touched your lips, your guilt has departed and your sin is blotted out." 8 Then I heard the voice of the Lord saying, "Whom shall I send, and who will go for us?" And I said, "Here am I; send me!"
Background
Isaiah is a prophetic text. It's also a popular text! Isaiah is quoted directly in the New Testament over 60 times, which means it is more engaged than any other prophet. The people resonated heavily with the words of Isaiah. Throughout the text you will find a
writer who is frustrated with mindless worship and praise of false idols. Later in this passage, you will hear an ominous passage of poetry. In your own devotional period, read verses 9-13. What images does this writer rely on and why?
Today's lesson will focus on redemption and worthiness. Read the scripture out loud together. What's happening during this passage?
The prophet contextualizes the vision by telling us it happened 'the year that King Uzziah died." In this vision, the prophet saw the Lord in a robe. Angels were around, each with three sets of wings. A set to cover their faces, a set to cover their feet and a set to fly. They sang to each other about the holiness of God and the Earth reflecting the Lord's glory.
The prophet exclaimed, "I am a man of unclean lips! I live among people of unclean lips, but yet I have seen the Lord!" An angel flew to him and held a hot coal to his lips, and the angel released Isaiah from his "sin." The Lord asked, "Whom shall I send," and Isaiah responded, "Here I am!"
Why didn't Isaiah feel worthy?
Isaiah has witnessed so many difficult moments. The very first chapter begins with him reminding the audience that this vision came during great political turmoil. The death of a King is sure to cause civil unrest and instability. Juliana Claassens, Professor of Old Testament at the University of Stellenbosch argues that "Isaiah's call narrative is closely connected to the trauma the prophet himself experienced. Serving as a witness to the political turmoil associated with imperial invasion and exile was surely a heavy burden to carry for the prophet, demonstrating how the prophetic vocation itself is also a source of anguish."
In other words, seeing destruction and death can make you feel like you are unworthy of any responsibility. If you are a witness to trauma and pain, you can feel like you're unworthy of anything else. It can be hard to see that God can use your gifts when you have no concept of what God can do with "someone like you."
What made Isaiah 'worthy'?
We can say that the ritual of the angel made Isaiah clean. He argued that he was lost and a "man of unclean lips." An angel took a hot coal and pressed it to his mouth. The angel said, "Your guilt has departed, and your sin is blotted out!"
But it's not just the ritual that makes Isaiah worthy. First, he admits his shortcomings. The angel can only perform this ritual after he admits he isn't perfect. Secondly, he has the will to show up where God wants him. He heard the voice of the Lord asking for a willing person, and Isaiah said, "Here am I, Send me!"
Isaiah has no clue what God is going to ask, but he's willing. He's ready to hear. What makes Isaiah ready isn't the ritual; it's his willingness to be honest about the trauma he has endured, the trouble he's seen, and the sense of awe he has in the presence of God. We have to admit our human flaws and be open to God's presence in our lives. That's what makes us worthy.
What questions do you still have of this scripture? How will you commit to journeying with this text this week?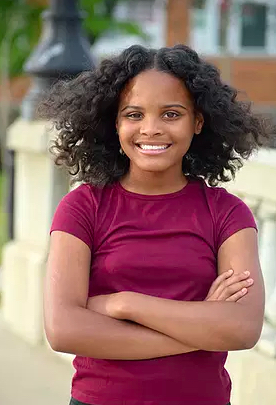 Connection to Today's World
Since 2014, Mari Copeland has been advocating for the people of Flint, Michigan. She rose to public fame when she wrote a public letter to President Obama, and since then, has maintained a critical voice about environmental justice and youth advocacy. In 2018, she started a GoFundMe for children of Flint to see Black Panther. She said, $$"Kids need to see themselves as superheroes. Black kids are seen as victims — and we're not." Mari will often say in interviews that she lifts up her voice because it's easy for people to "forget about kids" like her. All her work is dedicated to making sure the children of Flint know they are not forgotten.
This is a heavy crown for a child to wear, especially a Black child. Her witness is one that points out the absurdity of the system. So many adults went along with the continued disenfranchisement of Flint. Mari boldly said, "here I am," with a plan to remind the children of Flint that they were loved. May we build a world where children like Mari get to just be children.
Journal: What about your past is usable by God? What are you often ashamed about that God can use?
Closing: Listen to "Even Me," sung by the Howard Gospel Choir.