Psalm 48 NRSV
1 Great is the Lord and greatly to be praised
in the city of our God.
His holy mountain,
2 beautiful in elevation, is the joy of all the earth,
Mount Zion, in the far north, the city of the great King.
3 Within its citadels God
has shown himself a sure defense.
4 Then the kings assembled, they came on together.
5 As soon as they saw it, they were astounded;
they were in panic, they took to flight;
6 trembling took hold of them there, pains as of a woman in labor,
7 as when an east wind shatters the ships of Tarshish.
8 As we have heard, so have we seen
in the city of the Lord of hosts, in the city of our God,
which God establishes forever. Selah
9 We ponder your steadfast love, O God,
in the midst of your temple.
10 Your name, O God, like your praise,
reaches to the ends of the earth.
Your right hand is filled with victory.
11 Let Mount Zion be glad,
let the towns of Judah rejoice
because of your judgments.
12 Walk about Zion, go all around it,
count its towers,
13 consider well its ramparts;
go through its citadels,
that you may tell the next generation
14 that this is God,
our God forever and ever.
He will be our guide forever.
BACKGROUND
We're back in the Psalms this morning. You will recognize this passage because we sing at each church anniversary. This psalm is placed right between a psalm about God's reign and a psalm about the fleeting nature of riches. It tells quite a compelling story in context. God rules, God is our guide forever, God is bigger than material things like money. In your own devotional period, read this psalm as a reflective meditation. Why do you think this song resonates for us as Concorders?
Today's lesson will focus on preserving the truth for future generations. Read the scripture out loud together.
WHAT'S HAPPENING DURING THIS PASSAGE?
This is a psalm of praise. The psalmist writes that God is great. God's mountain is high above the Earth. The text describes God's citadel. A citadel is a fortress that protects a community inside. The kings of Earth came together and were astonished at how massive and incredible the citadel of God was. They couldn't believe it. They were "in panic" and began to tremble. They realized just how powerful God was.
The Psalmist is overwhelmed by good things about God. God's love is "Steadfast" and God's name goes to the ends of the Earth. The Psalmist reminds us to "walk about Zion, go all around it, count its towers, consider its ramparts, go through its citadels." Explore the facilities. This is done so that we may tell the next generation that "God is our God forever and ever." God will "be our guide."
WHAT HAPPENS TO THE KINGS?
Throughout the Bible, the character of "King" is used to expose God's incredible power and humanity's insufficient power. For example, when we sing "Kings and Kingdoms shall all pass away, but there's something about that name," we are reminding each other that earthly rulers can only be so powerful, so accountable, so useful. There are, of course, some examples in the bible of powerful and wise kings. But there are also examples of weak and immoral kings, like King Herod, King Nebuchadnezzar, and Pontius Pilate.
These kings are threatened by power that does not come from exploitation and manipulation. They cannot imagine power that is organic. Power, without conquest? Power, without war? How does your God do it? Consider the ways that Pharoah (yet another earthly king) and his magicians trembled at Moses and Aaron following God's instructions. They tried to replicate every trick! Verses 4-8 of this psalm remind us of how God's power measures up. You just can't beat God!
WHAT SHOULD WE TELL FUTURE GENERATIONS?
Tell the truth. The psalmist ends this psalm with the instruction that we should tell the "next generation" that this is God. It is a reminder to focus on what God actually is. The city itself is not God. The buildings, the borders, the geographic location is not God. God is beyond these physical things. God is what makes rulers shake.
It's important to teach our children that God is not just in the church. God is in nature, in our homes, in schools, in hospitals, in the world. We can have reverence for the house of God. It's why we take special care with the church sanctuary, and we don't eat in that space. We can also challenge ourselves to see God in other places. And as this psalm reminds us, God's power makes earthly rulers shiver. It makes oppressors very nervous.
What questions do you still have of this scripture? How will you commit to journeying with this text this week?
CONNECTION TO TODAY'S WORLD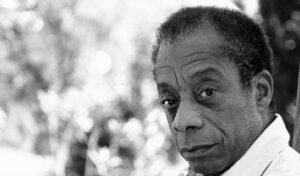 In 1962, James Baldwin wrote a letter to his nephew. In this letter, James Baldwin tells his namesake how hard it is to live in this country as a Black person. He names how people must think he is "exaggerating" to tell the truth like this. The crux of his letter is in this one sentence: "Wherever you have turned, James, in your short time on this earth, you have been told where you could go and what you could do and how you could do it, where you could live and whom you could marry."
James Baldwin so desperately wanted for his nephew to be free. He incorporated wisdom about ignoring the oppressor's gaze. "Please try to remember that what they believe, as well as what they do and cause you to endure, does not testify to your inferiority, but to their inhumanity and fear."
James Baldwin was an incredible writer and thinker. But his most tender and vulnerable piece of writing came as he wrote to his nephew. There's something sacred about telling the future generations what you've experienced, how you've navigated the world, and what your hopes are for them. We are so often separated by time, space, work, intergenerational differences. Intergenerational communication can help us grow stronger as individuals and communities.
You can read the letter in its entirety in the Works Cited section of the lesson plan.
JOURNAL: What do you want to tell future generations about the world you've lived in?
CLOSING: Listen to "Let Mount Zion Rejoice," sung by New Orleans Gospel Soul Children
PRAYER:
Dear God,
You are the God of history. You are the same God who our ancestors have called on. We connect with them through you, and we connect to You through them.
We are surrounded by pressures to ignore our people in different generations. When we are young, we want to avoid elders. When we are elders, we want to avoid those who are young.
You are calling us to tell the truth across generations. We know that you will pour out your spirit on all flesh. When we come together to grow with our communities of all ages, you are glorified. When we come together to be in awe of your power, kings and kingdoms shake. In Jesus' name we pray, Amen.